Tourist information

Tourist information centre
Katowice, 13 Rynek Street
+48 32 259 38 08
e-mail: katowice@silesia.travel
Opening hours:
April-September
Monday-Friday 9am to 7pm
Saturday - Sunday 9pm to 5pm
October-March
Monday - Saturday 9pm to 5pm
Sunday 9pm to 1pm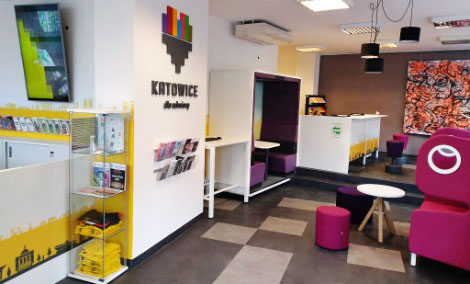 Nikiszowiec Tourist information
Nikiszowiec, 4 Rymarska Street
+48 32 255 14 80
e-mail: nikiszowiec@silesia.travel
Opening hours:
Tuesday - Friday 10am to 6pm
Saturday, Sunday and holidays 11am to 3pm
monday closed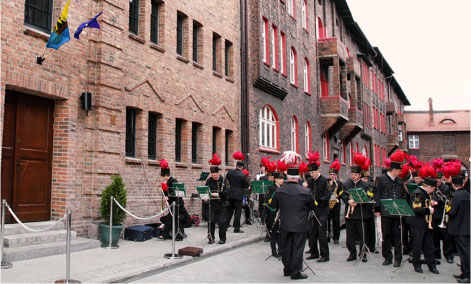 Useful information and trivia:
Electrical sockets
In Poland, we use European sockets. It's worth checking how they look like. You may need an adapter.
Right-hand traffic
Traffic is on the right side here. Please remember that if you want to rent a car
Non-cash transactions in Poland
You can pay with a credit or debit card practically anywhere in Poland. You can also pay by phone, using NFC.
Prohibition
Partial (night) prohibition was introduced in Poland in 2018. Therefore, you won't be able to buy alcohol after 10 p.m. in the shops in the city centre. The prohibition does not apply to restaurants and bars.
Polish-English
In Poland you can communicate in English without any problems. Almost every public place in Poland employs people who speak this language communicatively.
Public transport
Bus and tram

Public transport (Bus and tram) in Katowice and neighboring cities is organized by the Metropolitan Transport Authority. Timetable available here.
Timetable available here
.
Koleje Śląskie

The train station is located on Marii i Lecha Kaczynskich Square. You can buy train tickets online and at train stations.
Timetable available here
.
Wi-Fi
Free Wi-Fi network in Katowice is available in many places in the city centre (e.g. Market Square, main railway station).
Traditional Polish and Silesian cuisine
Polish dishes not only taste great, but are also very energy-dense and warming. When you're in Katowice, you should try at least some of them. We'll tell you which of them are the best
Silesian roulade with potato dumplings and red cabbage
The roulade is a traditional Silesian dish usually served for a Sunday lunch. It's pork or beef meat, wrapped around bacon, onion and pickled cucumber. The roulade is then stewed in sauce, with which Silesian dumplings are later served (i.e. small balls made of potatoes and flour with a recess in the middle). The dish is traditionally accompanied by red cabbage.
Żurek
Żurek is a traditional Silesian soup prepared on the basis of soured rye flour (akin to sourdough) in combination with a vegetable and bone stock, served with pieces of sausage, potatoes and other additions. Warming and nutritious.
Pierogi
Pierogi are traditional Polish dumplings. They are made with thinly rolled dough, cut into pieces. The dough is then used as a wrapper for meat, cabbage with mushrooms or something sweet to make the unique shape of pierogi. The dumplings are then cooked in boiling water and served with various sides.
Gołąbki (cabbage rolls)
Gołąbki are very popular in Poland. These are cooked cabbage leaves, stuffed with rice or groats and meat. They are served with tomato sauce.
Pork cutlet
This is a Polish variety of pork breaded cutlet – one of the oldest traditional dishes. It's made of pounded pork tenderloin, seasoned and breaded, then fried. Cutlets are typically served with potatoes and salads.
Herring in oil with onions
Poles prepare herrings in many ways. However, the most popular is herring in oil with onions. You can eat it on its own or with bread. It's a great match for more potent liquors.
Crepes
Crepes are very thin pancakes served with sweet cottage cheese, jam or fruit. You can choose what you want: cream, sugar or chocolate as the topping.
When going to Poland, remember two things. In Poland, tips are not added to the bill. You can decide whether to tip your servers. However, if the service was nice and the dishes tasty, it's common to reward the team that worked on this carnal and spiritual pleasure.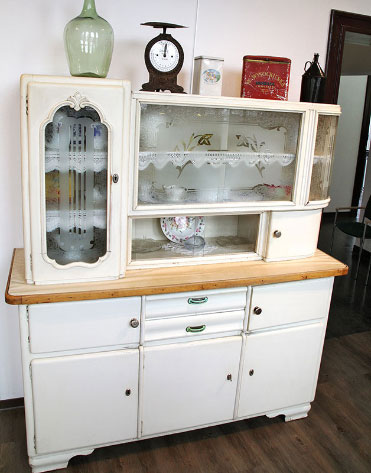 Souvenirs from Silesia
If you want to buy a unique souvenir from Katowice, we recommend the following places:
SHOPPING IN KATOWICE
The capital of the Silesian region offers a wide range of goods for shoppers in its many shops and modern shopping centres. In Katowice, these attractive complexes are easy to reach and offer everything to meet the expectations of even the most demanding customers.
For those who enjoy shopping among historic buildings of the city centre, we recommend Katowice's central district, enticing with its wide offer and professional service.
Silesian phrases and words
DZIEŃ DOBRY/GOOD MORNING/DOBRY [dahbry]
NAZYWAM SIĘ…/MY NAME IS…/JO JES… [yo yes]
KTÓRA GODZINA?/WHAT TIME IS IT?/WIELA JE NA WAJZLACH [veeiehla ye nah vhaizla-h]
DO WIDZENIA/GOODBYE/CZIM SIĘ [cheem she]
GZIE JEST…/WHERE IS…/KAJ JE… [khai ye]
KOCHAM CIĘ/I LOVE YOU/JO CI PRZAJA [yo chi pshah yah]
TAK/YES/JA [yah]
NIE/NO/NIY [niee]
KOBIETA/WOMAN/BABA [bah bah]
DZIEWCZYNA/GIRL/FRELKA [frehl kah]
MĘŻCZYZNA/MAN/CHOP [hohp]
CAŁUS/KISS/KUSIK [qusheek]
POWIETRZE/AIR/LUFT [looft]
STACJA BENZYNOWA/GAS STATION/TANKSZTELA [tank shtelah]
TORBA/BAG/TASIA [tah sha]
PRZYSTANEK AUTOBUSOWY/BUS STOP/HALTSZTELA [hahlt shtelah]
FAJNIE/NICE/GRYFNIE [greeph nieh]
PARASOL/UMBERELLA/PARYZOL [pah ree zol]
PAPIEROWA TOREBKA/PAPER BAG/TYTKA [teeth kah]
TRAMWAJ/TRAM/BANA [bah nah]
ROWER/BIKE/KOŁO [quo woh]
DWORZEC KOLEJOWY/RAILWAY STATION/BANHOF [bahn hof]
POCIĄG/TRAIN/CUG [tsoog]
KIEROWCA/DRIVER/SZOFER [chaufer]
SAMOLOT/PLANE/FLIGER [fleegher]
UWAŻAJ/LOOK OUT/DEJ POZÓR [day poh zoor]
TOALETA/TOILET/HAZIEL [ha zhel]
POKÓJ/ROOM/IZBA [eez bah]
SKLEP/SHOP/GYSZEFT [ghesheft]
SŁODYCZE/SWEETS/MASZKETY [mashkehty]
DNIÓWKA/SHIFT (WORK)/SZYCHTA [sheeh tah]
KONIEC DNIÓWKI, PRZERWA W PRACY/KNOCK-OFF TIME/FAJRANT [phai rant]
PLEŚĆ BZDURY/TALK NONSENSE/FANZOLIĆ [fan zohl leech]
PSZCZOŁA/BEE/BINA [bee nah]
ŁĄKA/MEADOW/BŁONIE [buoh nieh]
RZEKA/RIVER/RZYKA [gee kah]
DRZEWO/TREE/STRÓM [strom]
GAŁĄŹ/BRANCH/ASTA [asta]
SADZONKA/SEEDLING/ABLYJGER [ab lee gher]
BIEDRONKA/LADYBUG/BOŻO KRÓWKA [bosho kroof kah]
SŁOŃCE/SUN/KLARA [klah rah]
TĘCZA/RAINBOW/DYNGA [deen gah]
POGODA/WEATHER/POCZAS [paw tschas]
ŚNIEG/SNOW/ŚNIYG [shneeg]
WIATR/WIND/WIATER [veeah tehr]